"This provides me with tools for planning and designing my course". "People are not so frightened anymore to discuss and share their teaching ideas and experience with each other." " There are so many skilled people at UNIS when it comes to practicing good learning and teaching". "I am definitely going to use student response systems next time I  plan a lecture" – these are some of the impressions collected after the annual Learning Forum this year.
This year around 60 participants gathered at UNIS to discuss and learn more about educational quality and research-based education. The agenda covered course alignment, teaching culture, student response systems and making teaching videos. The participants were also updated on bioCEED projects, the ongoing process with the educational quality assurance system at UNIS, as well as some of the challenges UNIS is facing when it comes to educational development in future years.
Four external guest lecturers were invited to hold presentations and workshops at the forum. An inspirational lecture on "Digital Vitamins" was given by Professor John Alexander Strømme from NTNU on the use of digital tools within teaching and Professor Knut Mørken and Cathrine Wahlstrøm Tellefsen from UIO talked about the importance of course alignment and a good teaching culture.
Hands on workshops were held during day two where three parallel workshops were run. The workshops provided the participants the possibility to go deeper into the pre-lectured themes. Knut Mørken and Catrine W. Tellefsen addressed the concept of course alignment and touched upon teaching culture and levels of understanding. The presenters challenged the traditional method of lecturing by showing and implementing active learning techniques in their own lesson.  They also challenged  staff on how to think when planning teaching and overall education strategy at UNIS.  Jonathan Soule from bioCEED Bergen demonstrated how to make teaching videos by introducing the participants to some simple technical solutions, whilst John Alexander Strømme showed us options for creating good student response systems using So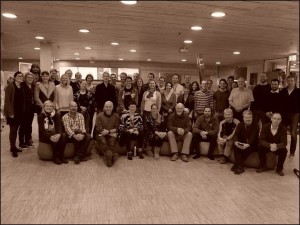 krative, Sembly and Kahoot. The workshop included several practical exercises where the participants had to create their own response systems.
The program for the Learning Forum can be accessed here: Learning Forum 2016_program
Photo: Ruben Eidesen