Curious about the internship courses at BIO in Bergen? Listen to the radio programme EKKO in NRK P2 (25th of April) where students are telling about their internship experience: https://radio.nrk.no/serie/ekko/MDSP25008217/25-04-2017#t=1h11m43s) and read the students blog biologipraksis UiB here: http://biopraksis.w.uib.no/
The internship courses are initialized by the project PRIME and organized under bioCEED.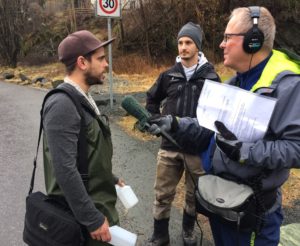 Picture: Internship student Christian Lucien Bodin, work practice host Sebastian Stranzl from Uni Research Environment and journalist Ivar Grydeland from NRK.