The annual Learning festival in Trondheim aimed to introduce new, effective and exciting learning methods in higher education, and inspire and motivate educators to use them.. The program provided a variety of interesting topics, including sessions on for instance flipped classrooms, team-based learning, co-operative learning, and use of "serious games" and reflective diaries, which all are learning methods developed to activate students, and engage them in their own learning process.
Several representatives from bioCEED were joining the festival. BioCEED by Roy Anderson et al. were invited to talk about building a SoTL culture, whereas Lucas Leno presented an example on the effect of digital tools (ArtsApp).
Pernille Bronken Eidesen and Tina Dahl presented a poster with their positive experiences with the combination of flipped classrooms and team-based learning in a bachelor course in Terrestrial Arctic Biology (AB-201) at the University Centre in Svalbard. Comments from the course evaluation were like "The flipped classroom and interactive teaching was really good, and I always felt I learned a lot." The exam results further confirmed the student perception of learning; the students scored better on the topic lectured with TBL and flipped classrooms compared to former exams (Fig. 1).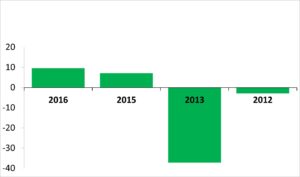 Fig. 1. Mean difference (%) between topic grade (Origin, evolution and phylogeography of Arctic flora) and overall exam grade from the four last exams this part of the curriculum has been tested. Team-based learning was partly tested in 2015, and fully implemented in combination with flipped classrooms in 2016.