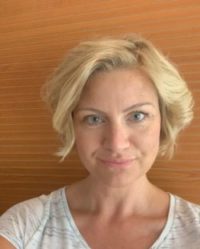 My name is Anja Møgelvang Jacobsen and I am the new Ph.D. scholar at bioCEED in Bergen. As an educational researcher, one might think that being surrounded by biologists all day long poses a lot of challenges, but admittedly it is not that bad (at least not so far!). And as my topic of research during my Ph.D. period is cooperative learning, we might actually end up cooperating across both disciplines and perspectives 
I have always been passionate about teaching and education. My first teaching job was at age 19, right out of high school, when I moved to the Canary Islands to teach in a refugee center. Upon returning to Denmark (oh, by the way I am Danish!), I started my formal teacher's education which I finished some years later in Bergen, Norway. Here I was so lucky as to get a permanent teaching position at a high school in town and worked there for 12 years.
The last five years of my high school teaching career, I was trusted with a position as the course responsible for subject didactics in psychology in the teacher education at the University of Bergen. Working both as a high school teacher myself and as an educator for future high school psychology teachers was both rewarding and meaningful. It was during these years I truly understood the importance of bridging the gap between two types of knowledge: the theoretical approach at campus and the practical approach in working life.
It was also in this time period I became interested in conducting my own research and started contemplating a career shift. So here I am now. Still in Bergen and while I may increase the average age of the Ph.D. scholars just a tiiiiny bit , I also look forward to examining how we can optimize cooperative learning and thereby further improve the quality of education while strengthening the students' employability skills!