In collaboration with our associate professor Sehoya Cotner and postdoc Cissy Ballen (University of Minnesota) bioCEED has initiated a project to map how biology faculty currently teach and what characterizes their teaching. During spring 2017 data will be collected at UNIS with emphasize on:
What characterizes the student experience at AB? How do students participate in class, and how do they perceive their involvement?
What aspects of course-based research experiences (a defining feature at AB) are associated with positive student outcomes?
Are there any identifiable and addressable barriers (e.g., gender, nationality) to participation and success in AB courses?
Are the faculty interested in learning more about pedagogy, professional development opportunities, or biology-education research dissemination opportunities?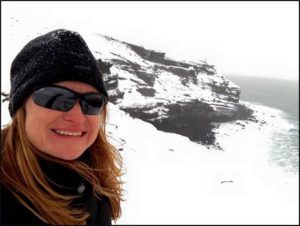 "We plan to address these questions through a combination of classroom observations, student surveys, and faculty interviews. We look forward to collaborating with UNIS faculty and staff to share their excellent teaching practices with the world of biology-education researchers" – Sehoya and Cissy
The project was initially started up in 2016 where data were collected from UiB.  Results from the mapping of 13 BIO-courses will be presented in a paper at the MNT conference in Oslo in March 2017.  The results show that biology faculty use a diversity of in-class techniques to engage their students. Also, students report relatively high levels of listening in class, thinking about course material outside of class, trying hard, paying attention, and enjoying learning new things.  Where there are differences by course level, the patterns indicate a more student-centered environment in the higher-level, smaller-enrollment courses: for example, students in 300-level courses are more likely than their peers in 100-level courses to report that they lead discussions in class, that the teacher designs meaningful in-class activities, and that the teacher seems interested in the students' learning.
Participation, confidence and gender, and the impact of the teachers methods and behavior, are another focus of the study. Results from UiB have so far revealed that female students participate less frequently orally in classroom than their fellow male students: http://www.studvest.no/ja-kvinner-deltar-faktisk-mindre-enn-menn/
To read more about the project click here