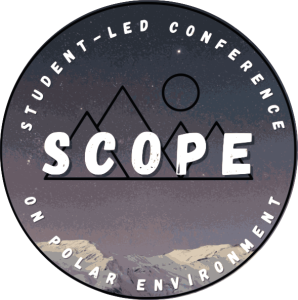 SCOPE (Student-led Conference On Polar Environments) will be held for the second time this year and will take place 6 – 7 October at the University Centre in Svalbard. SCOPE is a conference where students (bachelor/master/PhD) can present their course, group, research, thesis and/or project work in a low-pressure environment and practice the skill of presenting. We welcome all students working with polar environments to share their projects with their fellow students.
During the conference there will be presentations, posters, and time for networking with other students. Moreover, two keynote speakers will contribute with interdisciplinary presentations, and Svalbard Science Forum will give an interactive lecture about applications for funding and other resources they offer. The first day will end with a conference dinner and networking evening. We continue with more engaging presentations on the second day and will end (most likely) with an open-door event.
We aim to keep the participation fee as low as possible. For students presenting their work at SCOPE will have no participation fee! SCOPE is funded this year by bioCEED – Centre for Excellence in Biology Education and iEarth.
We are looking forward to two amazing days full of presentations, posters, networking and sharing sessions!
Interested in joining SCOPE?
You can find more information about SCOPE and how to register at our website.