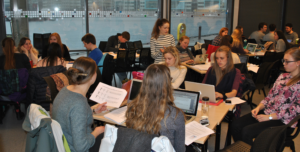 The tenth and last session of biORAKEL for this semester was held on Thursday, June 1st. Is is now time for our oracles to get some well-deserved rest, but not without receiving our congratulations and many thanks for their enthusiastic participation and for a job well done!
Initiated by highly-motivated MSc students at the Department of Biology – UiB, bioCEED's student-coordinated platform biORAKEL rapidly succeeded in recruiting experienced biology students willing to help younger peers. And just after a few weeks, 15 to 40 students were seeking the oracles' assistance weekly. Feedback from both students and oracles was more than encouraging, the ones suddenly realizing that help was at reach, the others enjoying the chance to rescue their peers and share their knowledge and experience with an interested audience.
The oracles will be back in September, with the aim to help students in BIO100 – Introduction to Evolution and Ecology and BIO102 – Organismal Biology 2, two mandatory courses for those enrolled in the Bachelor's Programme in Biology at UiB.
---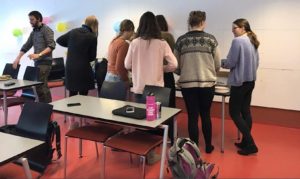 bioBreakfast at UNIS will also be back this fall, with new students involved in the project. Our student representatives Malene Klakegg Vinnes and Mari Engelstad, who have been running the breakfast meetings, have finished their studies at UNIS and will continue their studies at their mainland universities. They have done a great job starting up and running the project with two bioBREAKFAST meetings where bachelor students, master and PhD students have been able to meet, exchange and share their study experience. A big thank you to Malene and Mari!
bioCEED welcomes new students to join in, run and develop the project further next semester!