Friday, February 16, 2018 is a big day for bioCEED, and especially for Lucas Jeno who will defend his PhD degree at the University of Bergen with the dissertation: "The antecedents and consequences of students' autonomous motivation. The relation between need-support, motivation, and academic achievement». We congratulate Lucas with an excellent thesis, and wish him good luck with the defense.
The Faculty of Mathematics and Natural Sciences has appointed the following Evaluation Committee to evaluate the thesis:
Director, Chantal Levesque-Bristol, Purdue University
Professor, Anders Malthe-Sørensen, University of Oslo
Associate professor, Anne Bjune, Department of Biological Sciences, UiB (chair of the committee).
This is how Lucas has summarized his work for the press release:
Teachers and learning activities that provide students with choices and opportunities, optimal challenges, and an experience of being taken care of, increase the students' motivation, learning, and desire to continue their studies. In three studies of students in higher education, Jeno found that students who experience learning activities and teachers who support, rather than hinder, their intrinsic motivation, learnt more and had a stronger sense of well-being.
The first study was a national survey of biology students that mapping their experience of motivational support, motivation, life goals, and dropout early in the semester. These data were connected with students' grades at the end of the semester. The results showed that students who experienced support from teachers and fellow students had intrinsic goals, experienced more mastery and self-determined motivation, which in turn led to better grades and the desire to continue the studies. Students who were more driven by extrinsic goals and extrinsic motivation thought more about dropping out and had lower grades.
The second study was an experiment that compared motivation and learning among students who used a mobile application, with students who used a traditional textbook (a reference book) as a means of identifying plants and animals. The students using the mobile application had higher motivation, felt more mastery, and learned more, compared to students using the textbook.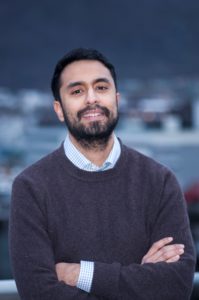 The third study compared traditional lectures with more student-active group-based teaching where students collaborate and discuss the material in class, rather than listen to a teacher. The results showed that student-active teaching led to higher motivation, mastery, engagement, and learning for the students.
Traditionally, higher education has used teaching methods that passivize students, rather than activating them. This despite the fact that research shows that active learning leads to more motivation, well-being and learning. This thesis contribute new knowledge on how teaching methods and technological tools should be designed to create optimal motivation and learning for students. Higher education institutions are recommended to develop and use methods that support students' intrinsic motivation in work against dropout, assessment, and learning.
Lucas' main supervisor is Professor Arild Raaheim, and the co-supervisors are Professor Vigdis Vandvik and Professor Anne Grete Danielsen.
Lucas will hold his lecture on a given topic 16th Feb, 09:15 at Large Auditorium, HIB (Thormøhlensgate 55) and the PhD defense starts at 11:15 in the same room.