Collegial Teaching and Learning – in Biology Education as an elective course in teaching and learning for teachers in higher education. The course consists of two separate units corresponding to two plus one (three) weeks of full-time work. The language of instruction is Norwegian/Swedish or English.
This time, the course is offered to biology departments across Norway. Applications to join the course should be sent by the Head of Department, and should include a team of 4–5 teachers from the applying department together with one or two tentative ideas/topics for their group project that could develop and benefit the department's educational programs. This will take the course to a new level where we interact and share at the national level of biology higher education in Norway.
The course consists of four one day sessions during August 2018 to January 2019 plus full participation in the MNT-konferansen in March 2019. Contact the course leaders or your head of department who has received more details about the course.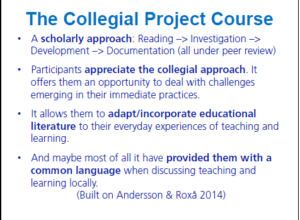 The application deadline has been extended to 15th of June 2018 by email to Oddfrid.Forland@uib.no.
Course directors:
Roy Andersson, Førsteamanuensis II, bioCEED UIB and Senior Lecturer, Centre for Engineering Education Lund University. +46 46 222 49 07, Roy.Andersson@cs.lth.se
Arild Raaheim, Professor, Dep of Education UIB. +47 55 58 25 55, Arild.Raaheim@uib.no